BRIDE TRAFFICKING: ASPECTS, CAUSES AND POTENTIAL SOLUTIONS
[Vol 3/ Issue 2/ March 2018] [ISSN 2394-9295]
Ms.Kalindi Saha
BA., LL.B(H) ,LL.M
Email id: kalindi.saha@gmail.com
ABSTRACT
Bride trafficking is a recently developed form of trafficking. In an era where women are given the right to choose a suitable groom for themselves, there are those unfortunate ones who are forced into the practice of selling into marriage against their wishes. This is also known as 'marriage of convenience'. The traffickers pretend to be marriage brokers/ intermediaries for families in distant areas. Sometimes violence is used to convince women to leave their homes. A society where a girl child is received unpleasantly and considered a burden, bride buying is an absurd reality. Increasing imbalance in sex ration in recent decades has contributed a lot in this inhuman and immoral task of bride trafficking. Unfortunately, there are no meaningful laws to tackle bride trafficking effectively. The Immoral Trafficking Prevention Act is a special law focused on prostitution but doesn't cover all forms of trafficking. Therefore the application of this law may not be the most prudent in case of bride trafficking. There are many social, economic and legal complexities involved with bride trafficking.
In this paper, we try to analyse the current situation of bride trafficking, different aspects of bride trafficking in society, causes behind bride trafficking and current law situation on bride trafficking.
Key words: Human Trafficking, Prostitution, Bride Trafficking
INTRODUCTION:
Trafficking in human, predominantly in women and children has twisted into a subject of genuine national and universal apprehension today. It is a international sensation which has picked up force currently. Perhaps moderately few wrongdoings are as astonishing as exchanging human wretchedness. Trafficking disregards a youngster's entitlement to experience childhood in a family environment and exposed them to a extent of dangers, including savagery and sexual misuse. In India as well, throughout the decades, the dimensions of human trafficking has prolonged however the precise statistics are not known, it is a obvious amid the most beneficial criminal exchanges, beside arms and drug smuggling attempted by remarkably sorted out lawbreakers universally right through the world.
Human trafficking in India although is unlawful underneath Indian law but vestiges a major problem from a long period of time. People are recurrently illegally trafficked through India for the purposes of commercial sexual exploitation and forced/bonded labour[1]. Although no consistent study of forced and bonded labour has been concluded, NGOs  approximation of this predicament affects 20 to 65 million Indians.
Trafficking of women and children is an egregious violation of Human Rights and solitary of the most sober structured crimes of the day, transcending cultures, geography and time. This indisputable actuality brings with itself the generally appalling form of servility for its victims who are treated as objectified commodities. What is more condemnable is the fact that the preponderance of the population, in any country, is not aware about its contributory role in the iniquity of human trafficking or even worse, acclimatization to its pervasiveness as a way of life.
There is no one meticulous explanation of human trafficking, yet the essence of every definition is more or less the same. It is the trading of humans, most universally for the rationale of sexual slavery, forced labour or commercial sexual exploitation for the trafficker or others;[2] or for the extraction of organs or tissues,[3] including surrogacy and ova removal; or for providing a spouse in the context of forced marriage[4]. Human trafficking can arise within a country or trans-nationally. It is a offence against the person because of violation of the victim's emancipation through force and commercial exploitation.
The Oxford Dictionary defines Trafficking as "the illegal movement of people, typically for the purposes of forced labour or commercial sexual exploitation." It has also been described as 'the transportation of goods, the coming and going of people or goods by road, rail, air, sea, etc. The phrase trafficked or trafficking is described as commerce in something, particularly criminally (as in the case of trafficking narcotics).'
The United Nations "Protocol to prevent, suppress and punish trafficking in persons, especially women and children, supplementing the united nations convention against transnational structured crime" defines "trafficking in persons" as "the recruitment, transportation, transfer, harbouring or receipt of persons, by means of the threat or use of force or other forms of compulsion, of abduction, of deception, of the abuse of power or of a position of susceptibility or of the giving or receiving of payments or benefits to attain the consent of a person having control over another person, for the purpose of exploitation. Exploitation shall include, at a minimum, the exploitation of the prostitution of others or other forms of sexual exploitation, forced labor or services, slavery or practices similar to slavery, servitude or the removal of organs;
"Child" shall indicate any person less than eighteen years of age"[5]
On the basis of the explanation given in the Trafficking in Persons Protocol, it is evident that trafficking in persons has three constituent elements;
The Act (What is done)
Recruitment, transportation, transfer, harbouring or receipt of persons;
The Means (How it is done)
Threat or use of force, coercion, abduction, fraud, deception, abuse of power or vulnerability, or giving payments or benefits to a person in control of the victim;
The Purpose (Why it is done)
For the purpose of exploitation, which comprise exploiting the prostitution of others, sexual exploitation, forced labour, slavery or similar practices and the removal of organs.
Human trafficking for the sexual purposes and child trafficking are the principal subsets. Trafficking in persons, a international sensation accompaniments with the inadequacy and susceptibility of individuals. Susceptibility emerges because of poor financial state, presence of sexual orientation based brutality and political unsteadiness. Conflict ridden territories which have existent war or the simple vicinity of army installations create demand. These zones are portrayed by the vicinity of sex workers and child soldiers.[6] More susceptible are those who wander from rural areas, where opportunities are yet rarer, to urban areas in search of employment and other opportunities.[7]
Reasons for Trafficking:
The origin causes of trafficking in children are manifold and multifaceted. However, some of the more habitually cited are poverty, lack of employment opportunities, low social status of the girl child, a general lack of education and awareness, inadequate legislation in the countries concerned, and feeble law enforcement machinery. Political uprisings are now rising as a aspect accountable for trafficking for prostitution, labour and also as child soldiers to fight for the "cause". There are also certain cultural factors that are accountable. Sometimes it becomes hard to differentiate involving the cause and the purpose, as is with the case of prostitution which has religious sanction.
Some of the causes for child and bride trafficking and susceptible groups identified by various persons working on this issue are:
Lower socio – economic condition: The lower socio-economic status of certain groups makes them unproblematic targets for traffickers from outside as well as from within the family and community.
Traditional religious and cultural practices: Prostitution is conventionally and ethnically sanctioned in some parts of the region and is a causal factor to the happening of trafficking. It derives traditional authorize from oppressive upper-caste temple traditions.
Trafficking tends to worsen in conflict or post-conflict and other emergency situations: Any circumstances of calamity or disaster (natural calamities like earthquakes, floods, cyclones or conflict situations and wars) make women and children more susceptible of being trafficked. In a situation of economic distress caused by the disaster, parents too have been found to be parties to the trafficking. Loss of family and ideological brainwashing also results in the trafficking of children as "child soldiers". In situations of conflict children are recruited as child-soldiers and used in armed conflict.
The status of women, the discriminatory laws against women and children, denial of property rights have shaped a condition wherein women are seen as a burden on the family, thereby making them more vulnerable as a prey to the flesh traders. The current laws in South Asian countries ignore exploitation of children by their own family.
Trafficking is a lucrative trade: Trafficking of humans, specially for labour, is not new. People have been taken as indentured labor from India from the colonial times. Now, trafficking for other purposes too is becoming profitable. As with countries such as Thailand, sex–work is being recognized as an industry and therefore trafficking of children for prostitution is growing.
Growth of tourism: Tourism is a rapid mounting business in India, especially since India became a part of the worldwide market economy. Increase in demand for children for pornography seems to be associated with tourism. The expansion of tourism has led to enhance in demand for children as sex objects. Tourists come to the developing countries from diverse parts of the world for easy and cheap sexual gratification.
BRIDE TRAFFICKING:
In India, as far the types of commercial sexual exploitation is concerned, it includes forced prostitution, socially and religiously sanctioned forms of prostitution, sex tourism, pronography, paedophillia, massage palours, bartending etc. The trafficking for labour activities is taken for the benefits in the industries when children are employed and exploited in number of trades, bonded labour, domestic work etc. Moreover, trafficking for illegal activities have begging, human organ trade, false marriage/ bride trafficking etc in the loop
Irrefutable is the fact that trafficking in women and children indulged in by structured criminals, an obscene affront to their dignity and rights, is a gross commercialization of innocent human lives. Trafficking violates all known canons of human rights and dignity. In the existing social scenario in India, susceptibility is a product of inequality, low status and discrimination as well as the patriarchal and captivating influence unleashed on children, especially the girl child. All of this is further compounded by a lethargic attitude of society fuelled by an approach which views women as mere chattels. With no freedom of choice and options for a life with dignity, these hapless women and children are merrily trafficked and exploited forcing them to lead a life crippled with humiliation, social stigma, debt bondage and a host of ailments including HIV/AIDS.
Trafficking for marriage is an inter-country and intra-country phenomenon. Formalisation of the marriage makes this form of trafficking very difficult to challenge under law . Young girls from poor families are taken in marriage to another state or country.
From Bangladesh, women are trafficked out to India for marriage to Indian men who find it difficult to marry for reasons of dower payment. In Chapainabaganj alone, over 10,000 women have been trafficked to Lucknow, Firozabad, and other places in India for marriage reasons during last 15 years.[8]
"Hundreds of Bengali women and teenage girls are routinely brought into the Kashmir Valley every year to be sold to aspiring grooms, who are often poor, old and physically disabled and thus unable to find a local bride. Some aspirants prefer to marry in such a fashion because they cannot afford the huge expenditure involved in performing local customs. In most Kashmiri villages, a groom has to meet the expenses of marriage and even buy gold ornaments and other expensive gifts for the bride. Dalals were very active before the onset of militancy and would smuggle women into the Kashmir Valley mainly from West Bengal's Murshidabad district in large numbers. Their activities had seen a shrimp when military had reached its peak. However, with some improvement in the law and order situation, the middlemen have resurfaced.
Some women form part of the racket involved in the sex-trade. These women are recruits of dalals who sell and re-sell them to prospective grooms on commission basis. Each girl or woman, depending on her age and physical features, is bought between Rs, 2,000 and Rs. 15,000, and then sold to a customer for double that amount. The racketeers lure the poor parents of underage girls in West Bengal and Bihar with promises that their daughters will be married off to wealthy people in Kashmir. The parents, stricken by poverty, fall prey to such enticements. In order to avoid penal action under the laws pertaining to trafficking in women, the sale is given a legal colour by solemnizing the 'marriage' through the institution of nikah"[9]
Not all trafficking that happens in the name of 'marriage' is for the purpose of marriage. Marriage may also be a means to get young girls into prostitution or for labour. Clearly, the nature of the problem is wide in spectrum and the cruelty of the situation varies according to the form and purpose of child trafficking.
In February this year, several children from the Murshidabad district were brought back from a few Arab countries. The children, including girls, were tortured and maimed by their abductors and forced to beg on the streets of Riyadh and Dubai.[10]
The report of the South Asian Workshop on Trafficking in Women and Children, Formulating Strategies of Resistance stressed: "It is important to distinguish between different forms of trafficking in terms of the final use of the 'goods', as the traffickers say. This distinction is necessary to understand that it may not be always useful to discuss the internal and trans-boundary migration of people under a single term like "trafficking". It is obvious that the issue such as organ trade requires completely different type of attention than other forms of trafficking. The children and women are ending up being sexual slaves, but there are also cases where they are legally or illegally married to a person"[11].
The whole racket of trafficking for marriage came to light in August 1980 when the Statesman Weekly carried a news story titled Marriages Not Made in Heaven's. This was about Muslim girls from Hyderabad being married off to Arab nationals for anything between Rs. 5,000/- to Rs. 10,000/-, depending on their age and appearance. The story narrated the plight of 25 year old Raheema Begum, who managed to escape from the clutches of her 75 year old Arab husband after she slaved him for over five years and bore him two children. Raheema's parents had received Rs. 5,000/- from her husband in lieu of their marriage. It further said, Bride-running from Hyderabad to the Gulf countries has been a profitable business and on an average 200 girls leave the city every month, according to the regional passport office here. Marriage brokers have sprung up in the city. Some of the Arabs marry as many as three to four girls on a single trip. Arabs who come to Hyderabad in search of young brides are not the oil-rich sheikhs. They are small time businessmen or petty traders. In a number of cases these young brides never leave the Indian shores. They are taken to Bombay and when the Arab visitor's tourist visa expires, he leaves the country, promising to send her a ticket on reaching home. The girl never hears from him.
After ten years from then, in October 1991, the newspapers carried another story of 9-year-old Ameena from Hyderabad. Ameena was married off to 60-year-old Arab Sheikh Yahyah-al-Sageih, who paid Rs. 10,000/- to buy her from her parents in the name of marriage. Ameena was Yahyah's fourth victim in the last six-months.[12]
OBJECTIVES OF THE STUDY:
To analyze the aspects and reasons of bridal trafficking.
To suggest potential reforms and suggestions to combat the universal crime of bridal trafficking.
RESEARCH METHODOLOGY:
This study basically follows doctrinal research method in the compilation, organization, interpretation and systematization of the primary and secondary source material. The approach of the study is descriptive and analytical. The data collected, organized and systematized from the secondary data resources. We have collected the data from different websites and also websites of Indian government.
PURPOSE AND LIMITATIONS OF THE STUDY
This paper is an attempt to trace the impact of the contemporary evolved concepts like bridal trafficking. It also involves the critical analysis of aspects and reasons of bridal trafficking. However every study has its limitations. This topic being so extensive relating to almost every individual of the country, it would be too unmanageable to study each and every factor related to it. Similarly all the very basic concepts and reasons are not described and discussed in detail. For this purpose only prominent reasons of study have been analyzed to sort out the areas in which potential suggestions and reforms to combat the bridal trafficking.
FINDINGS:
Reasons for Bridal Trafficking
Traditional female infanticide & abandonment of girls an ancient practice Female abandonment not illegal or immoral in traditional system
Hindu saying: "Raising a daughter is like watering your neighbors' garden."
Indian doctors' ad for foeticideservice: "Pay 5,000 rupees ($110) today and save 50,000 rupees tomorrow"
Today, infanticide is generally considered immoral in India and also illegal but is still under practice in many states of India. Today, A Global, but mainly Asian Problem
Difference due to killing of girls:
Foeticide:Sexselective abortions
Neonaticide(Steve Pinker) or killing of babies
Infanticide: fatal neglect of girls under 6 years of age.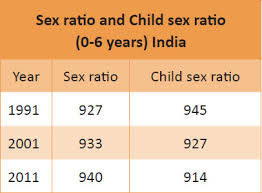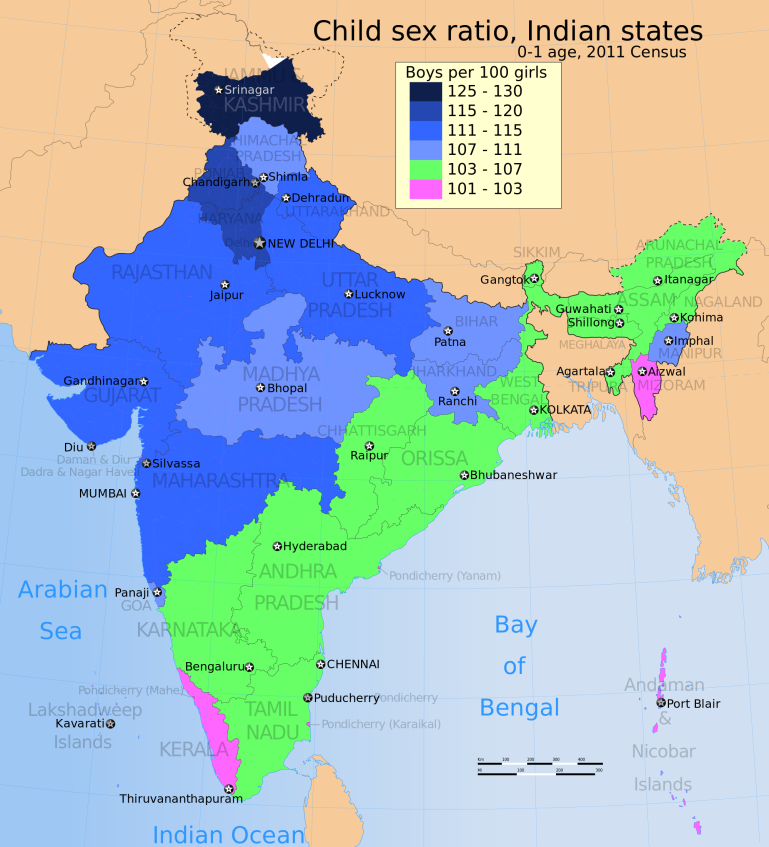 Source:Monica Das Gupta, W. Chung, L. Shuzhuo (2009),"Is There an Incipient Turnaround in Asia's "Missing Girls' Phenomenon," World Bank, WPS 4846.
Abandoned children a major source of slaves in Indian antiquity. Selective Infant Mortality although figures are conservative Still increasing in China and India
Characteristics of Indian Gendercise
2011 census shows 914 girls, under 6, for 1000 boys
Compared with normal ratio (about 105 boys to 100 girls born), there are 600,000 missing girls each year
Not due primarily to poverty: richest states have worst sex ratio: Punjab, Haryana, Gujarat
Preference for sons & smaller families combined with sex selection
Traffickers, called dalalor brokers, traffic unwanted girls to areas where there is a shortage, some from Bangladesh and Myanmar
Women in forced marriages despised as paro
Poverty & ignorance not main reason:richest, most educated states in India & China have highest ratios
Gender preference for boys: Patrilineality& patrilocality
Sex determination technology: ultra-sound scansCosts $12 in India
Traditional female infanticide & abandonment of girls In India first born daughters treated same as sons, but younger sisters tend to die in infancy
Declining fertility: smaller families and grater wealth combine to increase pressure to have a son
Consequences
Increased crime and violence: due to rising ratio of young, unmarried men: 1/7 of rising crime in China due to ratio Bride abduction; Rape; Prostitution
Floating or transient population , 80 million of whom are low-status males
Growing sense of class and caste injustice: Wealthier men can afford wives; it's the poorest men who face bachelorhood and themselves become victims of violence
Fall in price of dowries; increase in bride-price
High female suicide rates.
Increased savings rate in China: Positive correlation between savings rate & sex ratio parents must save more to find wives for sons
Trafficking of "brides" and children. Greatly increased with shift to capitalist economy
Types of Trafficking:
Buying of brides
Sale of unwanted female children.
Sale of young poor girls.
These women treated like slaves: forced back to husbands if they try to escape.
Traffic victims often treated as criminals; shame of families on return home.
Sometimes these trafficked brides are forced into prostitution.
Legal Framework for Bride Trafficking
Regrettably, there are no significant laws to deal with bride trafficking efficiently; The Immoral Trafficking Prevention Act is a special law purposeful on prostitution but doesn't cover all forms of trafficking. Therefore the application of this law may not be the most prudent. Bonded Labour Act 1976 and Juvenile Justice Act aren't equipped to handle these types of cases either. S. 366 of the Indian Penal Code which deals with "kidnapping, abducting or inducing a woman to compel her marriage, etc." is a lone remedy that can be used, but again it has no provision for rehabilitation or reintegration of the victims of bride trafficking.
CONCLUSION AND CRITICAL ANAYLSIS
The contemporary evolved form of trafficking that is bridal trafficking is the consequence of all immoral acts and deeds committed during the past periods of this country. The trafficking of women across the country puts these women at high threat because they are isolated and therefore more susceptible to abuse. Since many of these brides come from south and south east India where the sex ratio is a little more reasonable, the cultural differences between the girls and the north Indian men who purchase them is immensely diverse where they find it difficult to acclimatize. But cultural adaptation is least of their problems when the behaviour meted out to them by the husband is terrible and sometimes, bordering on inhuman. The most reasonable main factor to blame here is female foeticide. The Pre-Natal Diagnostics Techniques Act, 1994 has made some significant strides in punishing sex determination and the resultant sex selective abortion which has therefore improved, if only slightly, the figure of sex selective abortions. This component points out an evident loophole in our legal machinery that has no provisions to safeguard the girl child from neglect within the family after she is born. No legal framework leads to zero cases against families that are deliberately killing their girl children by neglecting them at an early stage.
A place where a girl child is received unpleasantly and measured a burden, bride buying is an absurd reality. The deeply rooted cultures which allow such practices in several states have acted as catalysts to this burgeoning business that is becoming alarmingly common. It's hard to see a way out of this because of the many social, economic and legal complexities involved.
Suggestions:
Based on the critical analysis these are following suggestion recommended.
Collaborative government/NGO efforts to release children trafficked from the district are needed as a main concern.
Efforts must be made to ensure that survivors are able to do good to from existing legislative schemes and programs.
Trafficking survivors must be provided with quality care and sustain through safe, efficient institutions.
Relevant government departments and NGOs need to jointly organize awareness generation programs in trafficking prone areas.
Survivors should be incorporated in Self Help Groups.
Cooperating with the private sector to facilitate rehabilitation.
Providing medical and psychological rehabilitation services.
Improving access to justice and guaranteeing compensation for trafficking victims.
Providing vocational training and legal help desks.
Training law enforcement to identify victims and investigate trafficking cases.
Identifying and reporting cases of trafficking on board aircrafts.
Targeting the Three Ps: Prevention, Protection, and Prosecution.
Fighting trafficking by curbing demand, providing services to victims, and advocating for change.
Empowering girls and women victims of commercial sexual exploitation through peer-led education and protection.
Providing job opportunities for trafficking victims and raising funds for anti-trafficking initiatives.
Coordinating a network to provide skills training and job opportunities to trafficking victims.
The need of improvement in the status of girl child in the society is the most important aspect of this problem. The government is running sufficient amount of schemes and programmes to insure the better environment for the girl child but still social paradigm shift is required, else the issue of bride trafficking will rock the foundation of our society and moral values in near future.
BIBLOGRAPHY AND REFERANCE:
A Human Rights Report on Trafficking in Persons, Especially Women and Children (India's Country Narrative for the Trafficking in Persons Report 2008, Consulate General of the United States Kolkata, India, June 4, 2008, available at: http://kolkata.usconsulate.gov/usgovtreportstipind.html)
Jaffer Latief Najar, "Human Trafficking in India"
Ministry for Foreign Affairs, Department for Asia and the Pacific, Malin Hansson, Trafficking in Women and Children in Asia and Europe "A background presentation of the problems involved and the initiatives taken"
Human Rights Documentation, Indian Social Institute, TRAFFICKING – 2012 (January to December 2012).
The National Institute on State Policy on Trafficking of Women and Girls of the Center for Women Policy Studies, "RESOURCE GUIDE FOR STATE LEGISLATORS MODEL PROVISIONS FOR STATE ANTI-TRAFFICKING LAWS"
Ibrahim Mohamed Abdelfattah Abdelaziz , "Wither Childhood? Child Trafficking in India"
Bobbie Khanna, "CEDAW and the Impact on Violence against Women in India"
REFERNCES:
Comments are closed.